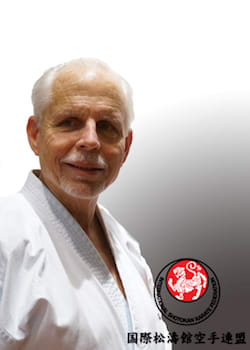 Chuck Coburn
Name:
Chuck Coburn
Title:

Chief Instructor and Director
Western Region Director of the International Shotokan Karate Federation (ISKF)
Current Rank:
Shichidan (7th Degree)
Year started Karate:
1969
Years of actively training in Karate:
48 years
Karate license:
Certified Instructor, Examiner, and Judge
University or college attended:
Phoenix College and Arizona State University
Years Teaching Karate:
46 years
Competition:
Won numerous US events and has been on numerous US teams in international competition over a 25 year competition career. This has included many times over as a USA team member in international competition. First World Tournament as USA team member was in 1975.
Accolades:

1990 ISKF Meritorious Award
Tournaments Best Competitor and Grand Champion several times
Inducted into the Arizona Budo Preservation Societies as being one of the pioneers who has been instrumental in the development of traditional karate
Hobbies:
Attending high school & college basketball events, golf, photography and travel
Community Service Activities:
Worked with disadvantaged youth in various programs
Motto:
"Gambette" Do your best • Be your best